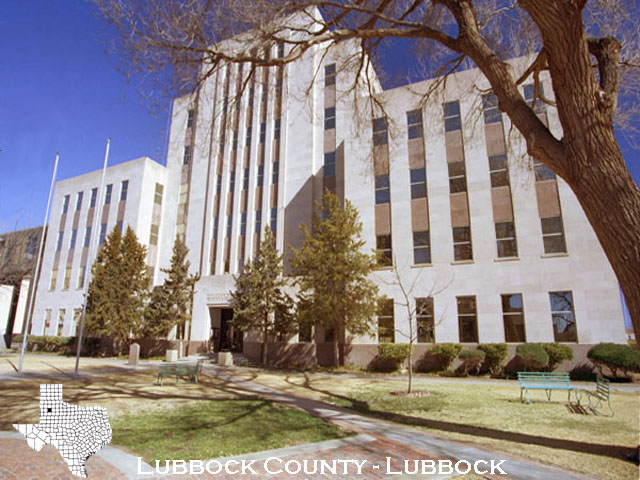 Lubbock County Courthouse, Texas
904 Broadway
Lubbock, Texas 79408
(806) 775-1000
(806) 767-9656 Fax:
Office Hours: Monday-Friday
8:30 a.m.-5:00 p.m.
Website – Lubbock County Courthouse
County Precinct Map (PDF format)
Lubbock County Elected Officials
DISTRICT JUDGES
RUBEN REYES, JUDGE 72ND DISTRICT
WILLIAM C. SOWDER, JUDGE 99TH DISTRICT
CECIL PURYEAR, JUDGE 137TH DISTRICT
JIM BOB DARNELL, JUDGE 140TH DISTRICT
SAM MEDINA, JUDGE 237TH DISTRICT
BRADLEY S. UNDERWOOD, JUDGE 364TH DISTRICT
COUNTY COURT AT LAW JUDGES
RUSTY LADD, JUDGE COUNTY COURT AT LAW #1
DRUE FARMER, JUDGE COUNTY COURT AT LAW #2
PAULA LANEHART, JUDGE COUNTY COURT AT LAW #3
JUSTICE OF THE PEACE JUDGES
JIM HANSEN, PRECINCT 1
JIM DULIN, PRECINCT 2
AURORA CHAIDES-HERNANDEZ, PRECINCT 3
JEAN ANNE STRATTON, PRECINCT 4
COUNTY JUDGE, TOM HEAD
COMMISSIONERS
WILLIAM L. "BILL" MC CAY, PRECINCT 1
MARK HEINRICH, PRECINCT 2
YSIDRO GUTIERREZ, PRECINCT 3
PATTI JONES, PRECINCT 4
TAX ASSESSOR-COLLECTOR, BARBARA BROOKS
DISTRICT CLERK, BARBARA SUCSY
CRIMINAL DISTRICT ATTORNEY, MATTHEW POWELL
COUNTY TREASURER, SHARON GOSSETT
COUNTY CLERK, KELLY PINION
SHERIFF, DAVID GUTIERREZ
CONSTABLES
KENNETH L. MULL, PRECINCT. 1
LARRY D. JOHNSON, PRECINCT. 2
MARINA GARCIA, PRECINCT. 3
The Lubbock Detention Center is located at 3502 N. Holly Ave. Lubbock, Texas; to get there, take the Regis exit off I-27 and go 2.2 miles east on Regis. Turn right onto N. Holly Ave. and you will see the new facility on your left across from the Lubbock County Community Corrections Facility.
Lubbock County Sheriff's Contact Information
Contact the Transition Team:
Chief Administrator Kelly Rowe
Phone 806-775-1716
Email KRowe@co.lubbock.tx.us
Sgt. Travis Rogers
Phone 806-775-1956
Email TRogers@co.lubbock.tx.us
Kim Ammons
Phone 806-775-1449
Email KAmmons@co.lubbock.tx.us
Cpl. Dan Corbin
Phone 806-775-1955
Email DCorbin@co.lubbock.tx.us
Cpl. Jeff Parker
Phone 806-775-1954
Email JTParker@co.lubbock.tx.us
Officer Malcolm Chambliss
Phone 806-775-1953
Email MChambliss@co.lubbock.tx.us
Officer Trena Lieck
Phone 806-775-1950
Email Tlieck@co.lubbock.tx.us
Officer Mary Veal
Phone 806-775-1951
Email MVeal@co.lubbock.tx.us
Officer Bob Violette
Phone 806-775-1952
Email RViolette@co.lubbock.tx.us
DWI Defense Attorney Information:
At the Law Office Of Stephen Hamilton, he understands you're probably confused, angry or fearful about your dwi arrest / dui arrest for a drunk driving incident. Being arrested for drunk driving, taken to jail, and fingerprinted and photographed can be very dehumanizing. We sincerely sympathize with you.
You don't need to face it all alone. Please call and schedule an appointment at your earliest convenience, as skilled Lubbock DWI criminal defense attorneys located in Lubbock, Texas, we offer a free initial consultation where we can sit down and discuss the criminal charges against you and what options are available to you. To assist you financially in paying any attorney fees, we offer flat rate fees and flexible payment plans that will allow you to hire us as your Lubbock DWI criminal defense lawyer so that I can start immediately to protect your rights. Call us today at (806) 794-0394 for a free consultation and see how we can help with your case.